New research from IHS Infonetics Research shows that NFV is key to revenue growth for WiFi carriers as they look to expand their access point deployments.
According to the 2015 IHS Infonetics Carrier WiFi Strategies and Vendor Leadership: Global Service Provider Survey, revenue generation is the top driver for carrier WiFi deployments in addition to preventing churn, bundling services and improving coverage.
---
Want to know more about virtualization? This will be just one of the many topics covered at Light Reading's second Big Telecom Event on June 9-10 in Chicago. Get yourself registered today or get left behind!
---
Because of the efficiency provided by network functions virtualization (NFV), those carriers looking at the technology innovation are doing so with an eye on increasing revenue, capex and opex efficiency, and flexibility to support rapid service changes, according to Richard Webb, research director for mobile backhaul and small cells at IHS, and author of the report.
While most of the service providers sampled in the survey find virtualization attractive, not all have gotten very far in understanding how to implement it, says Webb. "I don't really think there are any [service providers] that don't find [virtualization] attractive -- our survey sample is quite widespread and includes service providers in developing markets and regions as well as developed countries -- but some of those operating in less developed countries have just not got into planning to implement virtualization yet," he says. "Although they see the benefits, they have other network priorities first."
Webb cites maturity and needing time to prepare for implementation as factors in delaying implementation of virtualization in the carrier WiFi network. "I think it is widely accepted already, it's just that not all survey respondents are entirely sure how/when they are going to 'virtualize' so some of the data points where we asked them to indicate the positive drivers were on the low side," he says. "This doesn't mean they aren't keen. It's more a case of just not quite ready." he says.
Webb also added an important note: "This study was solely focused on carrier WiFi, so responses to the questions about virtualization were only relating to virtualization of the carrier WiFi network -- not elsewhere in their networks, which may/may not be under separate consideration and time frames."
For the new survey, the research analysis firm interviewed 23 incumbent, competitive, mobile and cable operators in Asia-Pacific, Europe, North America, the Middle East and Africa, and Latin America that have deployed WiFi in the public domain or will do so by the end of 2016. The study explores the drivers, strategies, models and technology choices that are shaping service provider WiFi deployments.
In addition, the survey shows that a quarter of the respondents expect that by 2016, 26% of their access points will be Hotspot 2.0-compliant to enable seamless roaming among WiFi networks and between WiFi and cellular networks.
See the chart below for the survey results showing the "strong" to "primary" reasons for deploying NFV in carrier WiFi networks.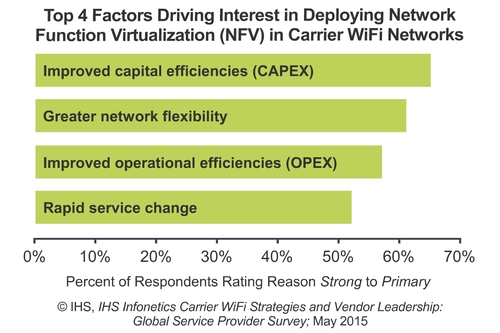 — Elizabeth Miller Coyne, Editor,
The New IP