New research by IHS shows that 35% of operators surveyed will deploy NFV this year in an effort to virtualize networks, and all those surveyed plan to deploy the technology in the next five years.
While service providers are currently in a long-term transition to network functions virtualization (NFV) and software-defined networking (SDN) architected networks, many carriers will be moving from proof-of-concept tests and lab evaluations to commercial deployments of NFV in 2015, according to Michael Howard, senior research director for carrier networks at IHS Inc.
This long-term transition means that hybrid legacy and New IP networks will be with us for a long time, so service providers must figure out how to transform their networks to meet customer needs and grow the bottom line while best leveraging existing assets.
IHS Research shows that as operators get closer to commercial deployment, the barriers to NFV and SDN becoming more prominent. For example, they find products aren't carrier grade and they must find and train staff for new equipment and processes. In addition, the survey showed that the top NFV use cases carriers plan to deploy in 2015 and 2016 include virtual enterprise CPE (vE-CPE), service chaining and virtual network platform-as-a-service (VNPaaS).
As Howard noted, service providers believe that NFV and SDN are a fundamental change in telecom network architecture that will deliver benefits in service agility and new revenue, operational efficiencies and capex savings. (See the chart below for top drivers for NFV from IHS.)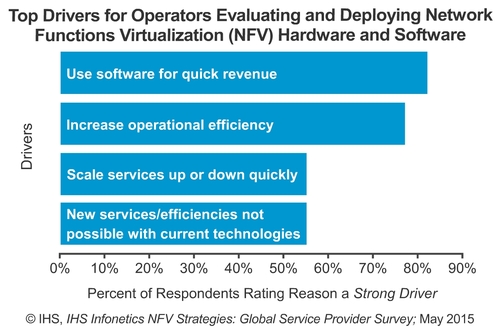 At the Big Telecom Event in Chicago, Heavy Reading revealed survey results that showed the number one concern of service providers when it came to NFV and SDN deployments was the "lack of a clear business case," and both Doug Suriano, senior vice president and general manager of Oracle Communications, and Kevin Dundon, executive VP at Alianza, spoke about this challenge on The New IP recently. (See
NFV Doesn't Come Cheap
and listen to
Evolving Voice in an NFV Era
.)
— Elizabeth Miller Coyne, Editor, The New IP