Service providers are on track to spend $5.7 billion on SDN gear by 2019, according to the latest market research from IHS.
Specifically, the carrier global software-defined networking (SDN) hardware, software and services market will grow by 15 times from 2015 to 2019 -- increasing from $103 million in 2014 to $5.7 billion in 2019, says IHS Inc. , in its latest IHS Infonetics Carrier SDN Hardware, Software, and Services market size and forecast report.
SDN is a cornerstone of The New IP because it provides programmability to cut costs and enhance agility.
AT&T Inc. (NYSE: T) is already seeing big benefits from its SDN efforts, according to John Donovan, senior executive vice president of technology and network operations, AT&T. Donovan said at the company's investor conference this week that SDN is delivering a 95% improvement in the provisioning cycle times of its Network On Demand service. (See AT&T's SDN Efforts Paying Off Big Time, and register for Virtual Reality: AT&T's Network on Demand to get an update on Network on Demand.)
As for the wider service provider market, according to Michael Howard, senior research director for carrier networks at IHS, carriers are still early on in the ten to 15 years transformation to New IP networks built on SDN and network functions virtualization (NFV), and we should not expect to see networks fully controlled by SDN until 2016 to 2020.
When it comes to what service providers are looking to spend all that money on, the top five criteria for selecting a SDN vendor are product reliability, price-to-performance ratio, product roadmap, pricing and service and support, according to a recent IHS global service provider survey.
"These prioritized criteria are pretty similar to many surveys we do with service providers, with the exception that in this SDN case, the product road map is much higher than usual, appearing in the top," Howard tells The New IP. "So carriers are definitely watching what vendors are planning for the New IP. They are watching how involved and committed each vendor is to openness and multi-vendor solutions."
As for which vendors are among the top in SDN, according to Howard, it's the usual suspects with the exception of a few outliers (listed alphabetically): Alcatel-Lucent (NYSE: ALU), Brocade Communications Systems Inc. (Nasdaq: BRCD), Cisco Systems Inc. (Nasdaq: CSCO), Cyan Inc. , recently acquired by Ciena Corp. (NYSE: CIEN), Ericsson AB (Nasdaq: ERIC), HP Inc. (NYSE: HPQ), Huawei Technologies Co. Ltd. , Juniper Networks Inc. (NYSE: JNPR), and Netcracker Technology Corp. .
"We see the expected industry giants in the list, yet not-so-giant Juniper, Cyan, Brocade show up, indicating they've done a good job at getting out front in the New IP, SDN game," said Howard.
See below for a chart on the expected growth of carrier SDN spending.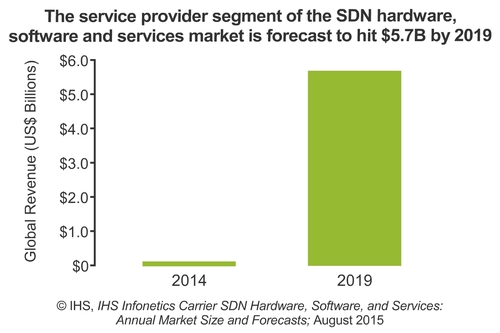 — Elizabeth Miller Coyne, Editor,
The New IP