A new report from Telstra shows that partnerships are increasingly important in driving revenue and lowering cost for offline businesses looking to develop digital capabilities. At the same time, digital businesses looking to expand their reach are looking toward partnerships rather than in-house R&D or acquisitions just to keep up with the pace of change.
For the report, in June The Economist Intelligence Unit surveyed 1,044 senior business leaders, one half (51%) of whom are C-level executives or board members. Respondents came from around the world and were spread across 20 different industry verticals. In addition, The Economist interviewed 21 executives for the survey.
Highlights from the report show:
53% of firms believe that companies will have to be part of a network to maximize on technology trends in the future.
50% of executives believe their digital partnerships are resulting in significant changes to their business model.
44% of firms took the view that "companies going it alone will soon be a thing of the past."
50% of firms believe their digital partnerships have already proven their value "beyond doubt."
Six in ten firms believe their digital partnerships will generate at least one tenth of their revenue over the next 12 months.
In addition, leaders surveyed said that it's increasingly tough to go it alone, so forming partnerships has become key to developing digital capabilities. Examples of successful partnerships include smart city, smart home and connected car alliances and large organizations that are forming innovation labs and accelerators to support startups developing new technologies.
In fact, forming partnerships is so important that 44% of executives surveyed take the view that "companies going it alone will soon be a thing of the past."
So what is a company, business or service provider to do when it comes to looking for the right partners to avoid becoming a "thing of the past?" Telstra's report offers up the following advice to executives searching for a match: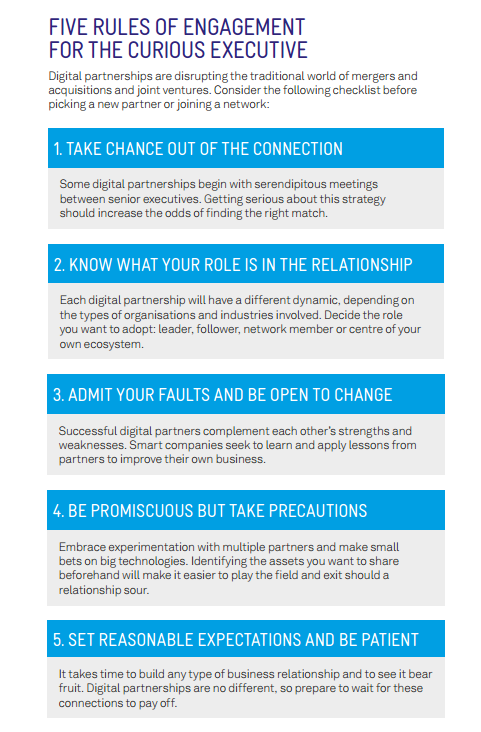 — Elizabeth Miller Coyne, Editor,
The New IP