Do you ever wonder what all this New IP technology like SDN and NFV might be enabling? Does it keep you up at night? Well, sometimes it does for me, but then my job is all about the New IP.
One seasonably appropriate way to think about it is to step back and consider how the transformation of communications networks is absolutely critical to driving the world economy during the Christmas holidays.
For example, what's really powering that last-minute, express-shipped, vintage, "impossible-to-find" Lego monorail set from 1994 that, one week before Christmas, appeared overnight on your 15-year-old's wish list below the hastily scratched out Lego Sandcrawler which, by the way, was already stashed in your neighbor's basement.
Without the communications network, a Christmas without crushing teenage disappointment (and its impact on the rest of the family) would not have been possible -- all the way from the ordering, to the shipping, to the BSS/OSS, payment processing, hosting and everything in between.
And this is only 2015, and we aren't anywhere near those 50 billion IoT devices yet. Imagine the world where the connected Hello Barbie is the least of your worries.
To help put some stats behind what I'm getting out here, Verizon Enterprise Solutions has been tracking broadband and mobile holiday traffic these last few days, and here are just a few of the eye-opening stats from their 2015 Verizon Retail Index:
Compared to last year, 2015 is already tracking well ahead.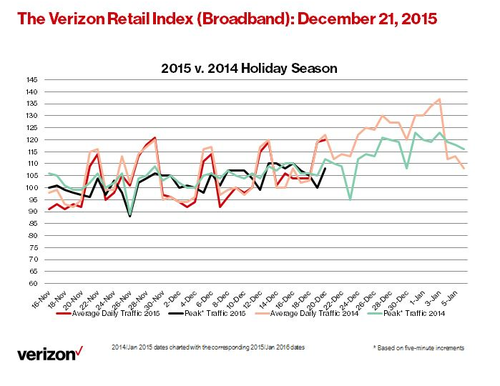 Now imagine 2020 -- just like the folks who attended Light Reading's 2020 Vision Executive Summit in Dublin a few weeks back -- and you'll understand how absolutely essential New IP technology that enables a more flexible, agile, redundant network is for powering the social, mobile, analytics and cloud-based world we'll be facing just four years from now.
— Elizabeth Miller Coyne, Editor, The New IP