Even as he was preparing to announce major news on the management and orchestration front, AT&T's John Donovan couldn't resist touching on one of his favorite topics: culture change and "upskilling." (See AT&T Shares ECOMP Vision, Might Share Software.)
As he did in February in a video interview at Mobile World Congress, Donovan -- AT&T Inc. (NYSE: T)'s chief strategy officer and group president of its Technology and Operations unit -- took considerable time in his Open Networking Summit keynote to stress the importance of changing its internal way of working and retraining many of its employees as part of the process of transforming AT&T into a more agile operator of a cloud-based network services platform. (See CEO Chat With AT&T's John Donovan.)
Donovan announced the first three graduates of its collaborative effort with Georgia Tech and what AT&T calls a "skills pivot" for thousands more, highlighting one employee who entered the company as a salesperson in a retail store and is now in training to be a security expert. "This is an amazing thing. I think we are creating one of the biggest transformations in the history of American business," Donovan said.
If that sounds like overstatement, consider comments made much later in the day at ONS by Chris Emmons, director of network infrastructure for Verizon Communications Inc. (NYSE: VZ), in detailing that company's 18-month journey to create the first five production sites for its NFV/SDN initiative. The goal was ambitious -- to design a network-wide platform that would allow Verizon to innovate at the pace of software, using virtualization on top of commodity hardware and building in automation as well.
"We wanted a consistent design for the data center, the aggregation and the edge of the network, so we could achieve operational simplicity, as well as sourcing and purchasing efficiencies," he told an ONS breakout session Tuesday.
Emmons compared it to designing an airplane from scratch to meet totally new requirements, and winding up with something that doesn't look at all like today's airplanes. If you can bear with a bad picture, here's what his "virtualized" plane looked like in slideware: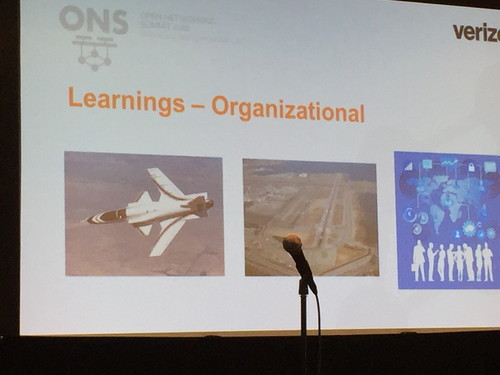 One of the major takeaways from the effort, however, is that preparing the runway turns out to be as important as designing the plane. Despite incorporating considerable advance effort to involve the operations team, and to socialize the new ideas as thoroughly as possible, Verizon's effort still faced some pushback, Emmons noted.
"We learned that you can't do enough to prepare the runway for this thing you are trying to land," Emmons said. "You will get resistance from something that looks funny to people."
On the operational side, folks used to deploying hardware in a "bit-wise fashion" had to get used to deploying it at the rack level so Verizon could get the benefits of integrating off-site for volume purchases. The entire change from a very long lifecycle for software purchases to a rapid turnaround via DevOps was "completely foreign" to many of those who had to get involved, Emmons noted. And the notion of moving forward with a piece of software that has limited testing versus the extensive testing of the past was also anathema to many.
"However much you think you have prepared and socialized this thing, you need to do more," he said. "In our experience, the technology was the easy part."
And that brings us back to Donovan's statement and what AT&T is trying to do with its workforce. People and their existing sets of skills and ideas about working can represent a major obstacle to change, but they also are a great resource for the future, give the right approach and preparation. It's just going to take a whole lot of that.
— Carol Wilson, Editor-at-Large, Light Reading