Consumers have digital and communications services providers under their thumbs -- quite literally. Today, the ways in which consumers interact with mobile and digital technology increasingly drives service provider IT and business strategies, but it also drives the fortunes and failures of businesses in all industries.
As a result, operators need to re-evaluate their service, sales and marketing approaches to determine if they are meeting the demands of consumers. In fact, new research conducted by Vanson Bourne and commissioned by Comptel shows that many already recognize this trend. A survey of 50 CMOs and CIOs/CTOs at mobile operators across EMEA, Latin America and APAC found that 72% say the "rapid change in customer behavior and expectations" is the most influential factor in driving their business and IT strategy.
Generation Cloud
How, exactly, have customer behaviors and expectations changed? Digital innovations have ushered in a period of consumer empowerment -- the age of "Generation Cloud." Mobile users can easily seek out the products, services and experiences they desire with a few clicks of the thumb, and digital technology is driving a far more immediate, individualized and unpredictable consumer experience. Generation Cloud is now able to set the terms of engagement, and these digitally savvy buyers are impatient, hungry for options and more than willing to drop vendors that don't meet their needs.
That's a big reason why 84% of survey respondents say traditional sales models are becoming irrelevant. Operators recognize that they need to recalibrate their marketing to maximize customers' individual digital moments, and support that sales model with service offerings that meet Generation Cloud's evolving, on-demand appetite. The combination of a next-generation sales and marketing playbook and service catalog will drive digital and communications service providers forward into "Nexterday," a new era of telco innovation.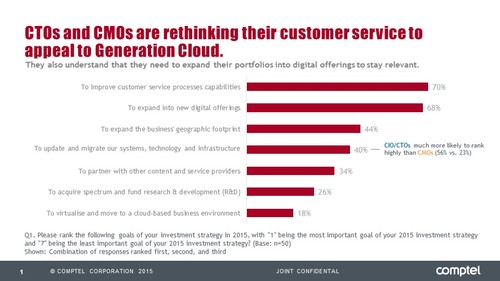 A segment of one
"One-size-fits-all" no longer works.
Segmentation, as we know it, is done, replaced instead by highly individualized "Segments of One."
According to the Vanson Bourne survey, 84% of C-level executives believe customers require relevant service or product recommendations and resist mass promotions. This finding is supported by a separate Comptel survey of global consumers, which found that nearly two-thirds would be more likely to prefer an operator that makes personalized product recommendations rather than mass targeting.
As a result, 80% of the executives in the former survey say they intend to seek out the capabilities to deliver "relevant and connected" consumer experiences within the next 12 to 14 months, but do their actions support their intentions? Only half (52%) said their company will progress initiatives in 2015 that will enable them to provide personalized and contextually relevant offers to customers.
The problem is many operators don't understand what their customers want, because the data on which they currently rely lacks the specificity and immediacy needed to yield better insights. Digital and communications service providers are often forced to act on data that is too broad or too old because their analytics systems rely on limited, rules-based parameters or require hours of prep work before analysis.
Instead, operations need systems that offer advanced analytics, bolstered with machine learning and automated pattern matching, to capture information in the moment and automatically use it to feed their decision-making. These systems compel operators to take immediate action, enabling them, for example, to instantly issue a top-up offer the exact moment a user approaches the limit of his or her data cap. Individually segmented offers satisfy the dynamic, personal experience Generation Cloud desires.
Getting creative
Of course, operators acknowledge that it's not just about how they reach their customers, but also what types of services and products they bring to the table. Of the CMOs and CIOs surveyed, 68% said consumer demand for data, cloud services and apps is reshaping the competition and driving expansion of their service portfolios. In fact, the expansion into new digital offerings is a primary driver of 2015 IT investment strategies for more than two-thirds (68%) of respondents.
Operators are finding a new competitive landscape for digital services, one that now includes a number of non-traditional vendors such as cloud service providers and over-the-top (OTT) content providers. While some telcos may view these new players as interlopers, others recognize opportunities for revenue-driving partnerships.
Consumers love the content that OTT services like Netflix and Spotify provide, and if mobile operators could offer a data package that makes accessing these apps simpler or more affordable, many consumers would jump at the chance to buy. Certain mobile operators are already engaging in the OTT partnerships that deliver these data packages, creating a mutually beneficial relationship that drives data consumption, supports content creation and most importantly, satisfies customers.
Operators need to embrace these types of creative offerings, and often that will mean shedding mainstays like service contracts, data caps and restrictive terms of service. However, they will be better off for it -- 28% of C-level executives say they believe a lack of knowledge around data pricing and service limits inhibits customer use of mobile data services. By crafting customer-friendly offerings and relying on a smarter analytics engine to automatically and instantly recommend these packages to relevant customers, digital and communications service providers will unlock new revenue streams.
Matching expectations
Generation Cloud has set a high bar for service expectations, and while most operators seem to recognize the shifting winds, there remains a sense of uneasiness about how best to proceed. At the same time, positive indicators show that answers are not out of reach. A majority of C-level executives surveyed agreed that certain technologies, including cloud-based infrastructure (80%), machine learning and process automation (88%), and embedded analytics (68%), will enable a more appealing consumer buying and service experience.
That suggests that these executives know what they need to succeed, and now simply require the green light to take action. If there's any lack of motivation, digital and communications service providers need only consider the success that operators like T-Mobile and Vodafone have enjoyed after implementing dynamic sales and services models to better serve their customers. The same opportunities are available to others, as long as they are ready to take it.
— Ari Vänttinen, chief marketing officer, Comptel, special to The New IP