A number of challenges keep businesses from entering into the cloud services arena, such as security and regulations that vary across different countries. However, Box hopes to eliminate the latter challenge with its new Box Zones. (See Cloud Hurdles & Headways.)
Box launched Box Zones in May to enable businesses in Europe and Asia, including medical and financial services firms, to maintain the security standards set by their own countries and use data centers that are not located across an ocean.
The first Box Zones will be in Germany, Ireland, Singapore and Japan with the Germany Box Zone backed up to Ireland, and the Japan Box Zone backed up to Singapore.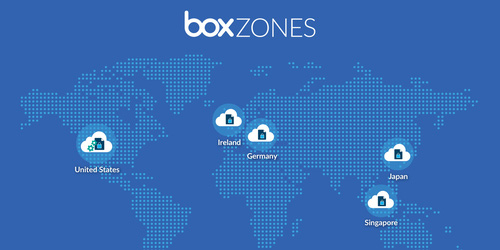 According to Jon Fan, director of product management at Box, over half of Box user log-ins come in from outside the US, and these four locations were identified as the most efficient ones to start with based on their customer base. In addition, Box Zones are based on a partnership with Amazon and IBM cloud services due to customer use in these locations and Box's existing relationships with those companies.
Existing relationships are key when it comes to cloud and other types of services where security is important. In fact, Microsoft's announcement that it was rolling out cloud services in Germany is predicated on its partnership with Deutsche Telekom -- and Microsoft considers that connection to a native German telecom service provider essential to gaining the confidence of German businesses. (See New IoT Clouds on German Horizon .)
Fan acknowledged that because Germany does have its own regulations in place, it's important to set up a location there. To gain entry, Box will build on its partnership with Amazon. "Amazon has a presence in Frankfurt and that's what we're taking advantage of. That's something clients are absolutely willing to work with," he says.
Box Zones are based on Amazon Simple Storage Service Amazon S3, which can be used on its own or in combination with other AWS services.
The partnership with IBM is set to launch in data centers later this year, and the company also has plans to expand into additional locations, though Fan said which ones may depend on the results they see from this first roll-out.
— Ariella Brown, Freelance Contributor, special to The New IP