Data makes the world go round -- at least if you're a mobile operator -- and it's clear that the major challenge for global operators in 2016 will still be to satisfy consumers' hunger for data-driven digital services.
Digitalization has created a new breed of savvy consumers who want full control over mobile service terms and immediate access to digital services like messaging, social media and over-the-top (OTT) content.
These global trends apply regionally, as well as in Latin America. With more than 326 million mobile subscribers -- representing more than half of the region's population -- Latin America is a healthy and growing mobile market. Local appetite for digital services will drive a 66% compound annual growth rate for data traffic through 2018, according to GSMA.
Comptel Corp. (Nasdaq, Helsinki: CTL1V), in partnership with TeleSemana, recently surveyed executives at 47 telco operators in Latin America, covering Mexico, Central America, the Andean Region, the Southern Cone and Brazil. We found that consumer obsession with data is driving telco investments in network improvements, and also encouraging some operators to cautiously explore partnerships with ecosystem partners they may previously have viewed as competitors -- and in many cases, still do. Here's what we learned.
4G domination
Latin American operators have aggressively bid for 4G spectrum over the past several years, in part to increase the quality and speed of network connections to serve consumers' data demand. That activity is reflected in the considerable scope of commercial 4G deployments throughout the region.
According to our survey, 70% of operators say their 4G deployments in Latin America have reached some level of commercialization. On top of that, 7% of operators say their 4G networks cover up to 20% of their local region, while 13% have reached 40% coverage.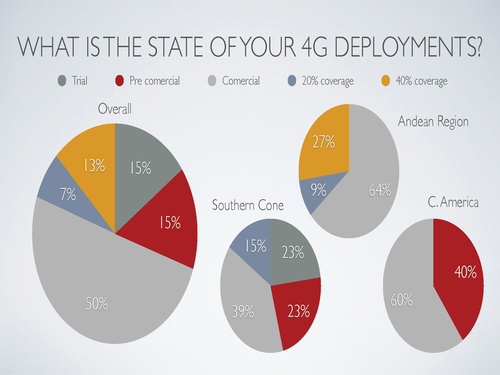 Among those who haven't already commercialised 4G, 15% say they are in trial phase and the remaining 15% say their deployments are pre-commercial. Ultimately, that suggests nearly all Latin American operators could have a functioning 4G deployment by the end of next year.
Certain sub-regions are progressing faster than others. In the western Andean Region, every mobile operator surveyed touted a successful 4G launch, with more than a quarter already achieving 40% coverage.
Meanwhile, 46% of operators of South America's Southern Cone say their deployments are either in pre-commercial or trial phase, while 60% of operators in Central America say they've achieved commercial phase but none has reached 20% national coverage.
The figures show how aggressively local operators are pursuing 4G not simply out of a desire for faster networks, but also to provide customers with stable, consistent access to digital services. And in regions that have had a head start -- Andean-based operators were some of the first to commercialise deployments thanks to early spectrum auctions -- 4G is already making a difference to service quality.
NFV and SDN still two years out
Though operators may be moving quickly to improve 4G coverage throughout the region, progress in the effort to virtualize IT architectures is comparatively much slower.
Our survey asked executives how soon they think software-defined networks (SDN) and network functions virtualization (NFV) technologies would make an appearance in the regional market. Only 5% picked the end of 2015, and a further 5% answered end of 2016. Most (34%) said that 2017 was a realistic estimated time of arrival, while 24% said 2018 or later.
Operators in the Andean Region were especially cautious in their predictions -- a combined 82% pointed to 2017 or later. A significant portion of respondents across the board -- 32% -- were simply unsure, underscoring how hazy expectations around SDN and NFV remain to most operators.
That's not entirely surprisingly and not far off from wider industry expectations around NFV deployment. The latest figures from Appledore Research Group claim that there are as many as 250 ongoing NFV trials and just 25 early live deployments around the world.
So while the switch to virtualized network functions in Latin America may be progressing a slower clip compared to other infrastructure transformations, it's not an apples-to-apples comparison. Operators worldwide are cautiously dipping their toes into this new network concept, and by the time most have made the switch, they could possess the infrastructure needed to complement the next stage of connectivity evolution: the tantalizing 5G spectrum.
Operators' views on OTTs remain foggy
Alongside the aforementioned technology transformations, there's one business factor that will also require new consideration -- operators' relationships with OTT service providers.
Increasingly popular with consumers worldwide, the appetite for OTT content is no less rabid in Latin America. eMarketer expects the number of OTT video-on-demand users in the region to reach nearly 11 million next year, an increase of around 32% from 2015, and then grow to about 17 million subscribers by 2017. Though Netflix is the largest player in the region, owning a 66% user share of Latin American VOD subscribers, companies like América Móvil and Vivendi are also making their mark.
Where do operators fit into this? That depends on their perspective. The survey found that while 17% of Latin American operators look at OTT players strictly as competitors, 22% see them as potential partners. Interestingly, the largest segment of respondents -- 49% -- actually view OTT providers as both rivals and potential allies.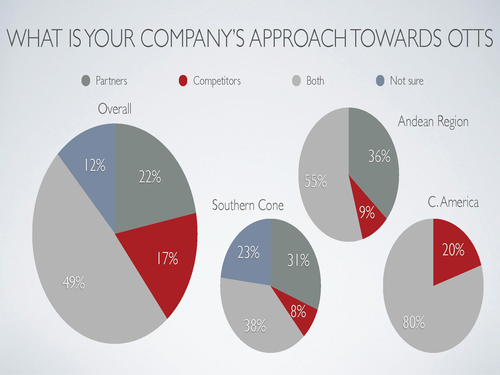 The findings demonstrate the interesting dichotomy in the evolving relationship between legacy and new players in digital services. While traditional telcos may want to own all potential digital revenue opportunities with customers, many more see the value in following the customer's lead and instead checking out what Netflix and its peers have to offer.
OTT providers, after all, have what consumers want -- digital content -- but they still need help from operators to get that content to the customer. So, why not pursue mutually beneficial partnerships? For example, Vodafone UK bundled its voice and data offerings with OTT services from Spotify and Sky Sports in early 2014. That not only increased subscribers to those services, but also increased 4G data consumption for Vodafone more than 2X, leading to higher data revenues.
If more Latin American telcos think in this way, they could leverage demand for OTT services in a way that benefits their customers and their own bottom line.
A new way forward
The survey ultimately proved that Latin American operators are not standing still in the face of shifting buyer demands and competitive pressures. As appetite for data grows, telcos are considering the infrastructure and service improvements needed to serve demanding customers. That's a positive sign for the industry locally and potentially a big win for Latin American mobile consumers.
— Diego Becker, senior vice president, Americas, Comptel, special to The New IP