After years of expansion through acquisition, service provider Birch Communications now is looking inward with a plan to increase sales and market share through organic growth -- a plan Senior Vice President of Alternate Channels Paul Masters will discuss when he joins the New IP Agency's Voices on Virtualization radio show on August 9 at 2 p.m. ET.
Masters, who began working at Birch Communications in 2013 when the operator purchased Ernest Communications (where he'd served as co-founder and president), will discuss Birch's new strategy under recently appointed President and CEO Tony Tomae, its partners' opportunities and the company's services. Birch also seeks to expand awareness of its brand, says Masters.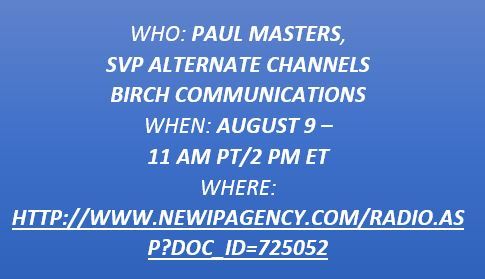 "We've been challenged by our new CEO to grow our advanced services by helping our partners become more successful through our portfolio of products and services. As we move from our legacy TDM roots into fiber into hosted PBX and data centers, our vision is to help our partners grow through the proliferation of cloud. Most partners don't realize we have a fully deployed BroadSoft solution. Most partners don't know that we have four world-class data centers that are built entirely on the Cisco UCS Stack, that we're a Cisco master service provider and a Cisco-powered network," he says.
"Combined with our fiber inventory, Multiprotocol Label Switching capabilities, the coverage that we have from single POTS lines all the way up to gig fiber from coast to coast, and now by virtue of our last acquisition of Primus, we reach down into Puerto Rico and up into the five main provinces of Canada," adds Masters. "One of our goals, then, is to increase the mindshare Birch has within the partner community. The more we tell our story, the more opportunities we have to help partners with their customers."
To hear more about Birch's short- and long-term plans, tune in to Voices on Virtualization on Tuesday, August 9 at 2 p.m. ET/11 a.m. PT. Register here.
— Alison Diana, Ambassador, The New IP Agency. Follow her on Twitter @alisoncdiana or @The_New_IP.