To combat dwindling revenue from traditional sources and pressure from growing mobile broadband usage, service providers must take a holistic, network-based approach to opportunities such as the Internet of Things, suggests a recent report from the Economist Intelligence Unit.
As voice calls and text messaging become more competitive and less profitable, service providers are turning to infrastructure investments and modernization initiatives to reduce costs and build new business offerings in both over-saturated and green-field markets, according to "Telecoms in 2017," written by The Economist's research and analysis division.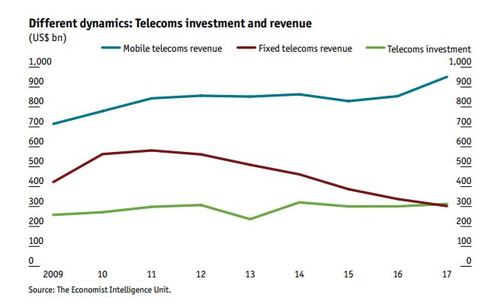 But simply implementing software-defined networks and investing in virtualization and cloud to support IoT and customers' other digital transformation solutions is not enough to truly convert CSPs' operations, Matt Kendall, Telecoms analyst at the EIU, tells the New IP Agency via email.
"Certainly, by just providing the connectivity, it may not be possible to monetize the revenue opportunities in the space. Rather, the focus has to be on a more holistic approach -- not just providing the connection, but potentially the device, application and support for a particular device within a particular industry," he says. "Similarly, some operators might choose to offer support for a platform that can be used across multiple sectors. The huge amounts of data that will potentially be generated by IoT devices also adds to the potential for providers to benefit from cloud computing and storage needs. It appears that there has been limited investment in the infrastructure so far, but this is likely to change."
IoT already is reshaping telecom. In the first quarter of this year, connected cars accounted for 32% of cellular connections in the United States; mobile phones represented 31% and tablets accounted for 23%, EIU says, citing research firm Chetan Sharma.
By 2020, service providers will spend more than $12 billion on network functions virtualization (NFV) alone, according to RnRMarketResearch.com. This investment allows operators to virtualize and consolidate multiple network components onto multi-tenant, industry-standard servers, switches and storage, thereby reducing capex and opex and complexity, but also empowering service providers to more easily address growing capacity demands.
Currently, 72% of global service providers plan or are already implementing SDN, NFV or both technologies, Roz Roseboro, senior analyst at Heavy Reading, told attendees during a panel during NFV & Carrier SDN in September.
To encourage and support more public and private sector adoption of IoT, service providers must become more aggressive in their infrastructure upgrades, says Kendall. While some -- such as Deutsche Telekom, Colt and Verizon -- have expended tremendous resources on IoT, many smaller operators are only now entering this market, a market that is far-reaching and all-encompassing.
"I would have thought [virtualization] would open up tier two and three providers who cannot rely on the same funding enjoyed by tier 1 providers to invest in hardware. Where they may struggle is in developing a sophisticated virtualized platform if the basic infrastructure in a particular market is lacking, or if the regulatory landscape is not robust enough to accommodate these providers in the first place, whether they adopt a virtualized approach or not," says Kendall.
— Alison Diana, Editor, The New IP Agency. Follow her on Twitter @alisoncdiana or @The_New_IP.