Network functions virtualization (NFV) has become a strategic tool for mobile network operators seeking to reduce capital costs and increase flexibility in their networks. C-RAN (cloud or centralized radio access network) enables NFV concepts to be applied to software running in the RAN by centralizing the baseband processing -– the core function that allocates spectrum resources among users within a cell. The Small Cell Forum industry organization, for example, is active in applying NFV to small cells.
But C-RAN architecture also provides an opportunity to go beyond NFV for baseband processing to virtualizing the actual radio resources. Cell virtualization extends the concept of virtualization beyond small cell hardware and onto the airwaves. C-RAN-enabled cell virtualization lets operators re-use spectrum many times over within the footprint of a single cell. The result is the elimination of inter-cell interference while providing high capacity. Cell virtualization enables more dynamic and efficient use of a scarce and costly resource: spectrum. Considering operators have spent $107 billion on spectrum purchases in the last three years according to ABI Research, cell virtualization can help operators leverage their investments by dramatically improving spectral efficiency.
To understand how cell virtualization is possible, let's first review how small cells are traditionally deployed. A small cell theoretically delivers a full cell worth of capacity. However, small cells are by definition limited-range devices that support only a small number -- typically between 16 and 64 -- users at a time.
To serve large, densely populated venues such as high-rise office buildings, campuses and airports, networks consisting of multiple small cells can be deployed throughout the area being served. This approach increases coverage area and capacity, but at a cost. Multiple cells create cell borders, increasing interference and forcing handovers for users near the borders. In small cell networks, where access points must be close together, it is common for border interference to occur across as much as 50% of the covered area. In these zones, user experience suffers. Battery life also suffers because the user device must constantly track and report on the many cells it detects.
Furthermore, while three cells theoretically have triple the capacity of a single cell, in practice the gain is much less. In a multi-cell system it is often necessary to over-provision the user capacity in each cell so it can handle uneven distribution of users. When all users converge on Cell 2 -- for example when people all head to lunch in the cafeteria -- Cell 2 will become overloaded while Cells 1 and 3 will have idle capacity. Since these user movements can be difficult to predict depending on the venue, all cells must be able to handle the high number of users. This increases the cost of the system because higher-capacity equipment is needed in each cell.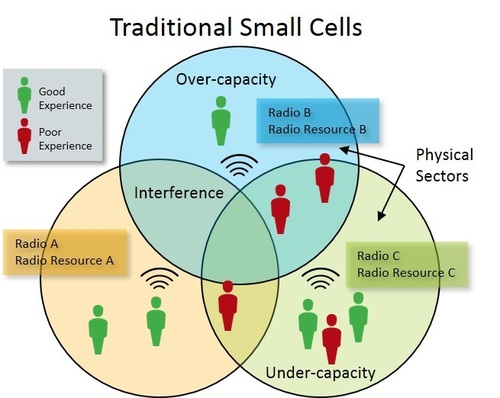 In a C-RAN, multiple
virtual cells
can be created within a single physical cell. Capacity is centrally pooled across all access points, so the system can dynamically allocate it to users wherever they are within the coverage area. There is no need to over-provision each sector, reducing the system equipment cost.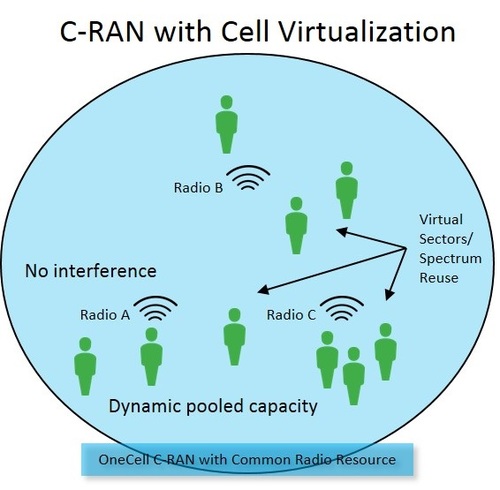 But by combining three cells into just one, don't we lose capacity? As it happens, C-RAN-enabled cell virtualization brings an even more remarkable benefit: the ability to re-use the same spectrum many times over, within the footprint of a single physical cell. Because the C-RAN baseband unit "knows" the location of each user, it can determine when two users are sufficiently isolated from one another to serve them at the same time. Cell virtualization enables the transmissions of unique user data within the same LTE resources but directed to different radios for different users. This form of virtualization puts intelligence into the reuse of spectrum rather than the uncoordinated, static re-use of spectrum in traditional small cells. As a result it achieves the multi-sector capacity of many standalone small cells, with up to a 1,000% increase in user data rates at the cell edge -- an order of magnitude improvement -- through the elimination of border interference. Device battery life improves because the user device need only track a single cell and because they transmit at a lower power level.
Given the scarcity and high cost of spectrum, multiplying capacity on a fixed amount of spectrum can pay huge dividends to mobile network operators. Virtualizing the cell brings a more intelligent way to manage radio resources and optimize the use of spectrum. C-RAN-enabled cell virtualization in small cells eliminates the problem of interference for traditional small cells while delivering the capacity that users require in the wireless networks of tomorrow.
— Michael McFarland leads product management and marketing for the Small Cells team within CommScope. Special to The New IP