NFV is reshaping how service providers look at activating, fulfilling and assuring services and the result is a new role for analytics, according to Ari Banerjee, principal analyst, service provider IT, Heavy Reading. I spoke with Banerjee last week after Light Reading's Telecom Analytics World, where he delivered new research results and shared some additional insights.
In fact, the New IP will require advanced analytics to play a major role in service management, Banerjee said, as service assurance and service fulfillment come together in the virtual world.
"It used to be that one group was responsible for service fulfillment, that was it," he said. "Another group was responsible for service assurance -- how the service and network behaves."
When NFV derives services from different virtualized functions, service fulfillment, service measurement and service assurance must be tied together, and all of them must be informed by advanced analytics.
"In that area advanced analytics plays a major role," Banerjee says. "This is critical for the self-healing, self-management concept of a virtualized network."
Another area where advanced analytics is critical for NFV is in balancing customer experience management and network resource management to manage quality of service and quality of experience. In fact, according to Banerjee's research, service providers expect to gain benefits by using business metrics for instantiating and moving virtual network functions (VNFs) for just-in-time network planning and provisioning, improved financial control over network operations and proactive, cost-driving network management. (See the image below for more details on Banerjee's survey results.)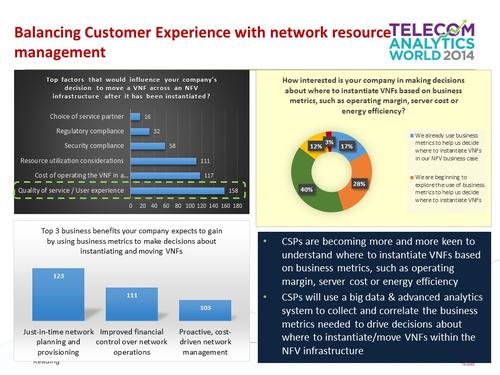 "Business metrics are the deciding factor for when service providers want to move VNFs around," said Banerjee. "But all of these things cannot be done unless you have an underlying big data analytics system to collect and collate the business metrics which will drive the decisions within the NFV infrastructure."
However, businesses will not benefit from analytics and the flexibility of NFV if they have to be done manually, said Banerjee. "You have to make it automated and analytics driven," he said. "When we talk about NFV, we talk about borrowing principles from self-organizing networks. In the context of planning, in the context of assurance, in the context of service management, in the context of VNF placements with an eye towards customer experience, all of these concepts will [rely on] big data and advanced analytics."
One question that has been bothering me about business metrics and NFV is whether or not NFV requires a whole new set of business metrics and if so, who is going to create those metrics -- standards development organizations, service providers, vendors, or a combination of all three?
Banerjee said the metrics today will change because today's metrics are based on the physical network. "How they are going to change is based on different parameters," he said, adding that the parameters will include nodes, functions and users.
As for who will come up with the metrics, Banerjee said it will be cross-functional team between organization bodies, such as ETSI NFV MANO, ONF, Open Daylight, TM Forum. "They have to work with the leading operators. None of this can be done in isolation," he said. "There will be more than one interpretation of the same thing. And the operators will take them and tweak them based on how they are needed."
— Elizabeth Miller Coyne, Editor, The New IP