According to a new report from technology market research firm Infonetics Research, now part of IHS Inc., the service provider router and switch market for 2014 was "flat" over 2013, and is showing signs of hesitation in spending due to the uncertainty around software-defined networking and network functions virtualization.
---
Want to know more about NFV and SDN? They will be some of the many topics covered at Light Reading's second Big Telecom Event on June 9-10 in Chicago. Get yourself registered today or get left behind!
---
Infonetics says the carrier router and switch market is up in China but down in North America with service provider router and switch revenue totaling $14.6 billion worldwide in 2014. More specifically, the firm also reported that worldwide service provider router and switch revenue was $3.8 billion in the fourth quarter of 2014, up 2% on a quarter-over-quarter and year-over-year basis.
In addition, Infonetics found that sales in the core router segment dipped 5% in 2014 from the previous year as expected due to the volume of capacity already "in the ground." And carriers in North America exercised caution in their router/switch spending in 2014, sending revenue down 7% from 2013.
Infonetics' Michael Howard, senior research director for carrier networks, told The New IP via email, that the firm first noted the trend in late 2013. "No one predicted it until we did in 4Q13. We observed all the work going on with SDN and NFV by service providers around the world… all making significant plans and investments to change their network in dramatic ways," he said. "Although the networks cannot be changed overnight, the uncertainty of what will be needed next in terms of hardware makes them very careful about the equipment they buy."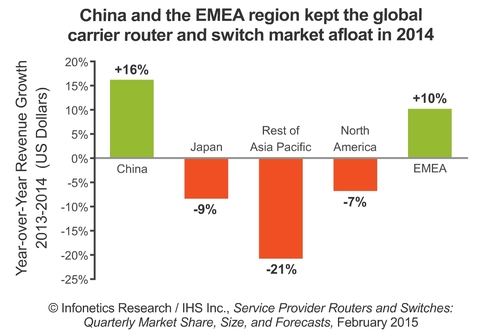 As The New IP reported yesterday, buying and selling in the New IP era is new and different thanks to the disintegration of hardware and software, and Infonetics research shows that this change is impacting service provider spending. (See
Buying & Selling in the New IP: What's Different?
)
"Most [service providers] plan to move service functions off of their IP edge routers onto servers under NFV -- services like firewalls, intrusion protection systems, carrier grade NAT, CDNs, BRAS and even IP MPLS VPN setup," said Howard.
"Router purchases cannot go away or decline significantly due to the continual increases in traffic," he noted, adding, "Carriers see SDN and NFV as means to help keep capex at an even level in parallel with revenues while traffic increases 30-50 percent each year."
While it's difficult to pin-point one specific thing impacting spending, uncertainty and the increasing and changing traffic patterns are all factors, said Howard.
In addition, because software-defined networking (SDN) and network functions virtualization (NFV) technology is very immature and there is not much experience yet using them in commercial deployments, service providers are uncertain about costs, timing and effectiveness of rolling them out in their existing networks without disturbing all the revenue-producing services being delivered on those networks, said Howard.
Outside of North America, the other major geographical regions -- EMEA, Asia Pacific and Latin America -- were in positive territory in 2014, according to Infonetics. "China came to the rescue of a flat 2014 Asian telecom economy with a double-digit increase over the previous year," the firm noted in its report.
The difference between the market in China and North America is not surprising, Howard noted. "North American spending is dominated by AT&T and Verizon, and their actions, more so AT&T, have a direct effect," he said.
"China is another world unto itself, in that the profit motive is not the main driver, but the government-planned economy is a strong factor," said Howard. "China will keep its carriers investing for the good of the population and the economy. Premier Li Keqiang just this week said China needed higher mobile and fixed broadband speeds at lower prices, and we'll see investments will be made this year."
As to the market for vRouters or vSwitches, Howard said very early in 2015, it was around $20 million worldwide. "Many of those functions like vFW, vIPS, vCDNs will be counted as other VNFs, while vRouters retain the router functions like IP MPLS VPNs and BRAS," said Howard. "So not all of the functions in today's edge routers will be counted under vRouters. We expect vRouter market in 2018 to be between $100-150M."
Finally, the big-name leaders of Alcatel-Lucent, Cisco, Huawei and Juniper are holding onto their dominant positions in the router and CES manufacturers market, together taking 85% of the revenue according to Infonetics.
— Elizabeth Miller Coyne, Editor, The New IP