M2M and IoT are already impacting businesses around the world when it comes to increasing efficiency and ROI, according to Vodafone Americas ' 2015 M2M Barometer.
In fact, more than nine out of ten companies in the Americas using M2M have experienced tangible ROI from M2M products and services, and 41% of M2M adopters in the Americas saw ROI within the first six months of implementation. The retail, healthcare and automotive sectors are seeing the fastest growth, according to Vodafone's survey, which was conducted by Circle Research.
Specifically, retail is up 88% year-over-year where typical M2M applications include in-store digital signage, smart payment systems and supply chain optimization.
In addition, the healthcare sector is up nearly 47% where M2M is used for applications such as remote patient monitoring and patient record systems. The utilities sector is up 32% due to the global expansion of smart metering systems. In the automotive industry, connected cars accounted for a 14% year-over-year increase in M2M adoption in the sector.
The M2M Barometer research also revealed that companies have been expanding the use of M2M technology across different areas of the business, and into more countries. Companies are also increasingly becoming more sophisticated with their use of M2M by linking it with cloud platforms and data analytics to drive business impact. Overall, 69% of users say M2M has "fundamentally transformed" their business, according to Vodafone.
Globally, the Americas saw 40% growth in ROI in six months while Europe had the fastest growth rate at 48%, and the rest of the world saw the highest adoption at 35%.
The M2M & IoT Impact
.)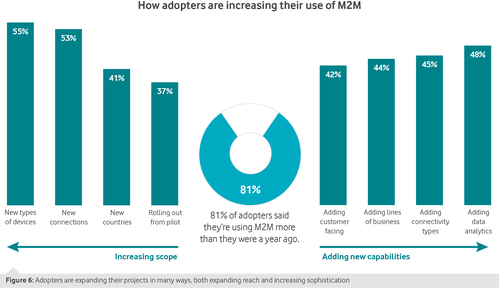 — Elizabeth Miller Coyne, Editor,
The New IP