New IP transformation is no longer confined to businesses in the Silicon Valley or global service providers. Businesses of all shapes and sizes are going digital thanks to the rapidly expanding social, mobile, analytics and cloud-based workforce.
This shift is evidenced by a 300% jump in traffic on Verizon's IP network -- or 44% per year, according to Verizon Enterprise Solutions, which tackles the digital transformation challenges and rewards in its new "Digital Transformation Powers Your Business" report.
This inaugural annual report looks at the issues around and drivers for transformation, and focuses on how CIOs and other leaders can rethink their network for better performance, reliability and security.
According to the report, the biggest obstacle to transformation is legacy IT. More specifically, more than 67% of IT leaders surveyed for the report told Verizon that legacy networks are a bottleneck to success.
Verizon commissioned the survey from Forrester Research, which contacted 600 decision-makers at large enterprises and multinational corporations in North America, Latin America, EMEA and Asia-Pacific back in February 2015.
Other challenges include keeping up with the rate of technology change, lack of budget, talent and staffing as show in the chart below.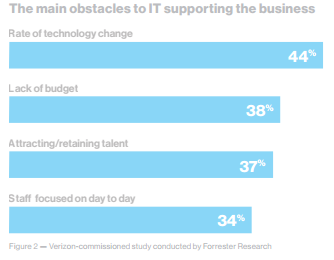 The challenges around business transformation aren't because businesses today don't use social, mobile, analytics and cloud-based technologies, but because they aren't using them or connecting them to create innovative products and processes, says the report. "The rigid, predefined network configurations of the past were fine for companies that changed slowly and had predictable traffic patterns," says the report.
Instead, companies need networks that are fit for purpose, and stay fit for purpose even as business needs change over time, according to the report. "This will require networks that are intelligent and able to dynamically reallocate capacity based on business rules; and do so with minimal manual intervention. Modern technologies like software-defined networking (SDN) can create sophisticated platforms that are application-aware, able to prioritize traffic dynamically based on business rules, and self-healing."
Intelligent, dynamic networks that are fit for purpose -- sounds like New IP to me.
— Elizabeth Miller Coyne, Editor, The New IP