To support the innovative services and ecosystem opportunities that surround the New IP, operator adoption of telecom API platforms will surge 58.5% amid a changing landscape of competitors.
The global market for telecom application program interface (API) platforms and related services will reach $1.2 billion in 2020 versus $72 million last year, says Shira Levine, research director and service enablement and subscriber intelligence at IHS. For service providers to successfully transition into digital operations, they must incorporate APIs, she tells The New IP.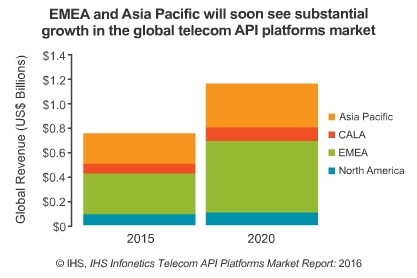 "API exposure strategies are very much part of operators' larger digital strategies -- if they want to become digital service providers..., they need to develop more sophisticated API strategies, particularly as they target new revenue opportunities such as [mobile virtual network operator] MVNO and IoT," says Levine. "If operators truly want to play a role beyond pipe providers in this area, they need to figure out how to add value, and APIs are an important tool."
Service providers can use APIs to deliver new, innovative services to customers, increase partnerships and expand their ecosystems, according to IHS Inc. In fact, APIs have been at the core of myriad enterprises' transition to digital organizations, Forrester Research Inc. reports. To succeed both operationally and as partners to enterprises, service providers must create and implement telecom APIs.
"Today's customer-centric, software-powered businesses thrive on connectivity, and connectivity thrives on APIs... Whether the need is process optimization, new revenue streams, IoT, predictive analytics, or something else, APIs facilitate exchange of diverse information and business process flows within and between organizations," the research firm writes.
Telecommunications differs from other markets because some operators are pushing the envelope of capabilities, striving to deliver more -- which worries some industry executives, says IHS' Levine.
"I think, for the most part, [telecom] differs in that some of the more innovative and unique capabilities that operators are looking to expose are also core network and IT elements, which is causing some concerns around how exposing them will affect security, latency, etc.," she says. "For example, there has been talk for a while now about exposing [Quality of Service] via an API into the policy management system -- but policy management is a key component of the operator's core network, and they're reluctant to muck with it too much."
However, as API developers such as Apigee Corp. and CA Technologies (Nasdaq: CA) eventually join traditional network and IT providers -- like Ericsson AB (Nasdaq: ERIC), Huawei Technologies Co. Ltd. , IBM Corp. (NYSE: IBM) and Oracle Corp. (Nasdaq: ORCL) -- well-entrenched within service providers, competition and opportunity heat up, says Levine. In addition, the New IP itself changes how developers should target this vast market, she says.
"Emphasizing their familiarity and ability to integrate with the network and IT elements is key [to API telecom developers] -- though you could argue that as networks move to IP, that telecom-specific integration knowledge becomes less important," Levine adds.
— Alison Diana, editor, The New IP. Follow her on Twitter @alisoncdiana or @The_New_IP.