Widely viewed as an expert in virtualization implementation and development, AT&T is looking to make the technology more open and less vendor-specific by sharing many of the lessons it learned during its two years of hands-on experience with these solutions.
As vice president of advanced technologies and architecture at AT&T Labs , Chris Rice plays a big role in both AT&T's internal use of virtualization and the operator's efforts to expand more widespread adoption of the technology. The group -- responsible for research, platforms and architecture in the SDN area -- recently has been working on SDN, NFV and cloud, Rice tells the New IP Agency. Rice will join Voices on Virtualization, the New IP Agency's radio show, on Aug. 25 at 2:00 p.m. ET (11:00 a.m. PT). Register here.
One of the biggest hurdles AT&T encountered related to the number of incompatible components within this ecosystem. (See: New IP Agency Director: Creating Order From Standards Chaos.)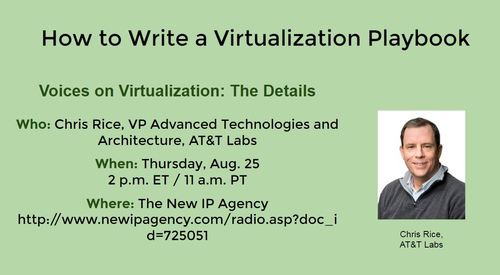 In fact, major CSPs expend huge amounts of resources on duplicate testing, AT&T and Verizon executives told the New IP Agency at the Big Communications Event in Austin, Texas, earlier this year. (See:
AT&T Exec: The Future of Virtualization
and
Verizon: The Cost of Virtualization Interoperability Testing
.) Each virtualized network function, for example, requires special treatment, Rice says.
"They look a lot more, unfortunately, like snowflakes, not like Lego blocks. That is one of the things we want to help drive," he says. "If you're someone who's doing operations in this area and you want to update a software image on a VNF -- image A and you want to update image B -- the first thing you have to do is put it in a suspended state so that way, if there are any other things coming into the network virtual function, there are no problems. I'll bet you, if I go to 20 VNFs, a small portion would actually even have a suspend function today -- and they'd all be different. That whole configuration management is something that should be standard for any VNF. There are certain commands like that or APIs and interfaces that need to be in any VNF so they need to look like Lego blocks, not snowflakes."
Ripple effect Beyond the dollars and hours AT&T Inc. (NYSE: T) and other CSPs expend on interoperability testing, multiple incompatible standards create other barriers to implementation -- and the subsequent business benefits and profits virtualization delivers. At a time when most technology organizations struggle to recruit and retain the best qualified staff, adding areas of knowledge only increases the challenge, says Rice.
As the world transitions from hardware to software, there's an evolving class of engineers -- software networking engineers -- who have traditional engineering skills plus expertise in software, he says. In addition to working with higher education institutions, AT&T University delivered more than 250 million hours of training to employees, John Palmer, senior vice president and chief learning officer at AT&T tells Light Reading. Recognizing the difficulty in finding enough people externally, the company developed processes to educate staff, he says.
"We realized that we can't find that scale externally and have to do it in large part internally," Palmer says. "We are mapping training to specific roles of the future. Our business strategy drives our learning strategy. The days of going out and getting a four-year degree and riding out a 30-year career without continuing your education are over."
— Alison Diana, Ambassador, The New IP Agency. Follow her on Twitter @alisoncdiana or @The_New_IP.